Scott Yonehiro - Head Trainer & Performance Coach
Born and raised on the island of Oahu in Hawai'i, Scott was no stranger to physical activities and fitness. At a very young age island children learn to pick up boards and hit the waves with an intense vigor as almost a rite of passage. Strength has always been revered in Hawai'i and young island boys quickly turning into men hit weight lifting, martial arts and other sports at a very early age. Scott was fortunate enough to have a renowned strength and boxing gym that his uncle owned and where Scott would begin his journey into fitness and understanding the human body and all of its potential.
Growing up around the family gym and witnessing such greats like Ted Arcidi (The first man to bench press over 700 lbs world record holder); Don "The Rock" Muraco (WWF Wrestler); and Bertil Fox (IFBB Pro Body Builder); come through, Scott was always exposed to an incredible deal of knowledge at such an early age. Possessing a healthy competitive attitude pushed Scott into becoming the best he could be physically, mentally, and spiritually. Yet even with this strong upbringing into fitness, Scott still fell victim to life's often times rough seas and it had an almost irreparable and permanent effect on him.
In 2001, Scott transitioned over to mortgage banking full time and was quickly promoted to the position of regional sales director and head corporate trainer for First Security Lending in Burbank. As a recognized professional in the field, Scott was frequently interviewed by such trades as CNN Money, Fortune, Money, The Wall Street Journal, Yahoo Finance, and The New York Times.
In the third quarter of 2008, Scott switched gears on his career and brought his talents over to the entertainment online media industry by signing on with Thought Equity Motion (TEM). TEM holds the largest online library of stock footage and video clips in the world. Although his business venture met with great success there were other facets of his personal life that went terribly out of control which caused an incredible amount of stress and depression in Scott's life. Struggling with his life, Scott found himself using food and alcohol as a means of "coping" and very quickly saw his weight shoot up over 80 lbs to a whopping 278 lbs.
After a final doctor's visit in 2008 forced him to realize how close to death and permanent illness he was, Scott immediately went to work on creating a better way to get into shape that would be healthier on the body, easier to maintain over the years and faster in results. From this renewed fire and determination the '90 Day Body Transformation Program' was forged. Utilizing its principles, Scott was able to drop over 73 lbs of fat, water and toxin weight and pick up an extra 10 lbs of lean muscle. Scott took this proprietary technique and created the company Ballistic Body Fitness. After running the helm of this San Fernando Valley based personal training company as CEO for 4 successful years, Scott left to open his Fitness & Business Coaching hybrid company, SY Performance.
SY Performance (SYP) leads the way in cutting edge training techniques to bring out the 'Elite Business Athlete' that lies within. Utilizing a proprietary combination of science based techniques, SYP focuses on Fitness, Nutrition, and Mindset exercises to help our clients increase performance in high stress areas of their professional and personal lives.
1-818-374-7961
Call now for a FREE phone consultation and fitness evaluation to see if one of our programs is a right fit for you.
SY Performance team trainers are all independent professionals that are both certified and insured.
Kaori Takee - Personal Trainer & Group Fitness Coach
Kaori Takee is an energetic Personal Trainer and Group Performance Coach with an in-depth understanding of body mechanics. Kaori has multiple certifications with NASM (National Academy of Sports Medicine), FAI (Functional Aging Institute), and TRX, specializing in functional strength training. If you're looking to burn fat, build muscle, and get toned, then Kaori is your girl. If you're older and looking to work on your balance, restore mobility, and maintain muscle weight, then she can help you with those goals as well.
Kaori has a deep understanding of the need for hard work and the importance of guidance from the right trainer. She will become your trusted fitness coach, and working together with you as a team, she will develop a customized program that gets you the results you want in a safe and fun manner. Training with Kaori will change your life, give you the strength to face all challenges, and bring out the best version of YOU.
Jordan Shipp – Personal Trainer & Physical Therapist
Jordan Shipp was born and raised in Phoenix, Arizona. Growing up, sports was a big part of Jordan's life as almost all of his immediate family members played collegiate sports on scholarship. The competitive drive to grow and become better stems from his family dynamic to push themselves daily. He attended Adams State University, graduating with a degree in Exercise Science and Kinesiology. Jordan played collegiate basketball but suffered an injury that shortened his basketball career.
After a terrible rehabilitation experience, He found a passion for helping people get through physical trauma and dedicated himself to aiding them to exceed their expectations. Jordan gained valuable experience in corrective exercise and rehabilitation by working as a physical therapy aide for two years and has since become a full-time NASM-certified personal trainer. Jordan specializes in corrective exercise and repair but is highly knowledgeable in nutrition, weight loss, and hypertrophy methods and programs.
Haley Khan – Personal Trainer & Running Coach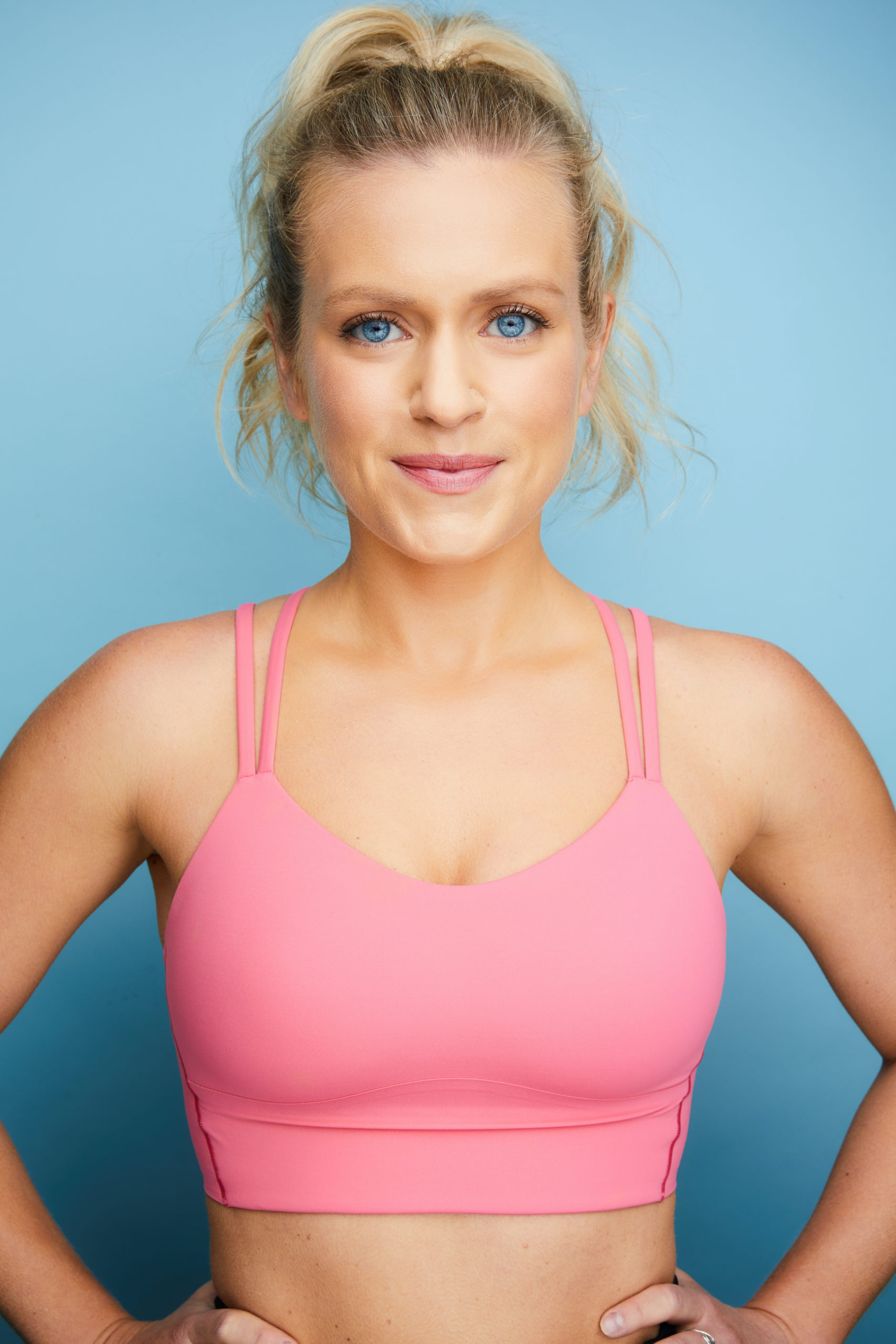 From an early age, Haley was athletic and raring to move! She supplemented a rigorous dance schedule during high school with strength training because she loved feeling strong and powerful.
But like many young women…or as she later realized, women of all ages in our society felt pressure to look good, which always seemed to translate into being THIN. She was trapped in a "diet culture," wracked with self-criticism and mounting unhealthful habits to achieve an unrealistic ideal.
Fortunately, Haley broke out of her downward spiral of endless dieting and became dedicated to helping others do the same. After moving to Los Angeles to pursue her acting dreams, she discovered that, rather than waiting tables in-between acting jobs, she could build a meaningful career out of her love for strength training and her well-learned tips for healthy living, which included healthy eating. That's when Haley got certified as a Personal Trainer and Fitness Nutrition Specialist by the National Academy of Sports Medicine (NASM).
In addition to strength training, Haley is an avid runner and serves as a pace leader for USA Marathon Training.  She is currently obtaining her Running Coach Certification. Having successfully conquered Heart Break Hill, the most challenging section of the Boston Marathon route, she has set her sights on qualifying to run the entire Boston Marathon. Haley is a proud native of Boston, a die-hard Boston and New England sports fan (who forgives Tom Brady for transferring to Tampa Bay), and a graduate of UMASS Amherst, where she earned a BFA in Theatre, a BA in English, and a minor in Education.
Derek Cragie – Personal Trainer & Strength/Conditioning Specialist
Originally from Scotland, Derek was raised on a healthy diet of Martial Arts, including Tae Kwon Do, Kick Boxing, Muay Thai, and traditional Boxing. Being quite the athlete, he deeply loved the high-paced action of Ice Hockey and Soccer, which he played for several years and reinforced his love for competition and the training it takes to become a high-performance athlete.
Derek has made Los Angeles his home for the last 17 years, where he has firmly established himself as an elite personal trainer in the health and fitness industry.  He is certified through N.A.S.M, holding advanced certifications in C.E.S (Corrective Exercise Specialist) and C.S.C.S (Certified Strength and Conditioning Specialist). Derek has used his education in tandem with years of practical experience to help clients, of all abilities, from novice to advanced, to reach their goals. Workouts are designed to be on par with clients' goals and are fun, safe, and challenging.
Laynie Michell – Personal Trainer & Corrective Exercise Specialist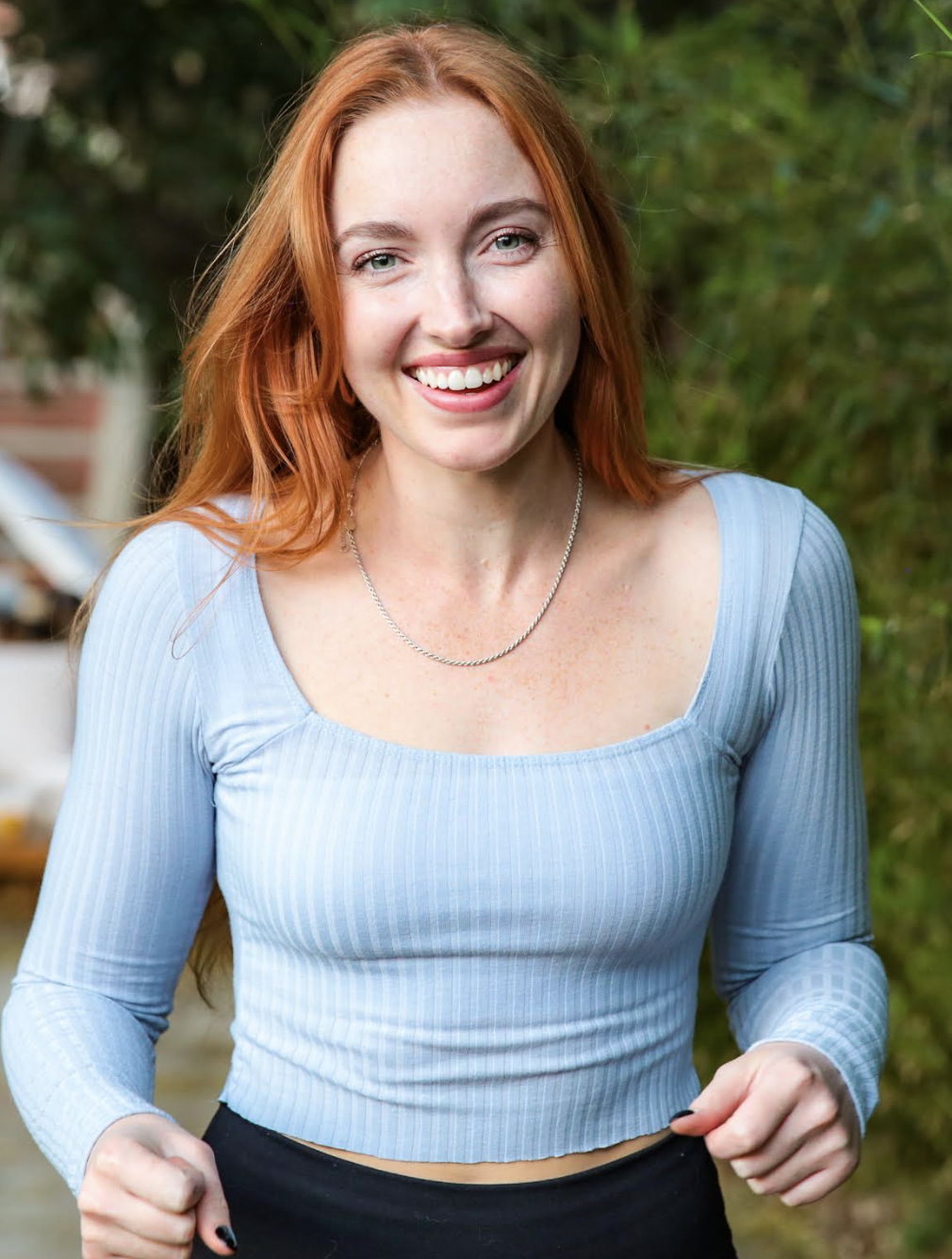 Laynie is a NASM-certified personal trainer with a specialization in corrective exercise. She trains clients from all backgrounds, from elite athletes to total beginners, and she truly enjoys getting her clients to reach their goals. One of Laynie's great passions is dispelling the overabundance of myths and lies surrounding the fitness industry to sell products.  She cuts to the chase in her training techniques and educates her clients on the many beautiful intricacies of the human body. To have the opportunity to work with Laynie on reaching your fitness goals is to be given a chance to learn from one of this industry's finest.
Emma Krishnaswami - Personal Trainer/PCOS Weight Loss Specialist
Emma Krishnaswami is a NASM Certified Personal Trainer who has dedicated her life to health and wellness. With 12 years of ballet training and 7 years of training in the gym, altogether she offers 19 years of experience in fitness.  She cares deeply about the health and well-being of others and enjoys taking the time to get to know her clients to find out the best way to help them reach their goals and maintain them. While she is open to training anyone that inquires, her specialty and passion is weight loss for individuals with polycystic ovary syndrome. Emma has struggled with it herself and has learned that the best approach is not through rigorous programming and cutting calories, but through stress management, body-love, balanced eating, and moderate exercise. She customizes the program to the client's needs and experience and knows that no two PCOS clients are the same. When working with Emma you will discover that the aesthetics of weight loss are not the primary focus. First and foremost her process will teach you to listen to your body, love yourself, and to find joy in the things your body can do. Only then will weight go down and never go back up. Together you will build a lifestyle you not only can maintain, but love!
The Victory Stronghold is the perfect place to let down your hair and be with people who will accept you for who you are. If you are focused on building a better YOU, there is no better place to find the inspiration you'll need to reach your goals than at our clean and modern private training studio.
Still not sure that our program is right for you or your business?
Call or email us now to discuss how we can help you.