If you want to bring out your personal best — whether to grow your career, nurture your inner elite athlete, or to just finally feel comfortable in your own skin — you will need to put on your game face and refuse to settle for anything less than optimizing your performance. In order to accomplish these objectives, you must fuel yourself with premium sources of energy through the most efficient method possible. I strongly believe that our meal plan is what you've been seeking for years, because it will actually deliver the results you've always wanted, and frankly the results you deserve.
This meal plan is a blend of three successful eating principles that I have found to be the catalyst to drawing out the best in individuals. Utilizing the successful techniques from three popular eating principles of Intermittent Fasting, Periodic Ketogenic Eating, and Targeted Carbohydrate Loading, I have created a blended and strategically unique approach to building lean healthy muscle while melting fat away from the body. These three principles are highly successful when applied to any type of eating preference you may follow like Vegan, Paleo, Vegetarian, Ketogenic, and more. This meal plan's foundation is based on a diet enriched with clean, whole organic foods, and fluids.
Our meal plan also comes with dozens of highly nutritious, protein packed and easy to prepare meal recipes, that will satisfy your taste buds. Our recipes range from low carb high protein dishes, to strictly Vegan meals, and we also include Vegetarian type delights. If you're not sure that our meal plan is the right fit for you, simply reach out to us via phone or email, and we'll be happy to answer any questions and concerns you may have.
1-818-374-7961
Call now for a FREE phone consultation and fitness evaluation to see if one of our programs is a right fit for you.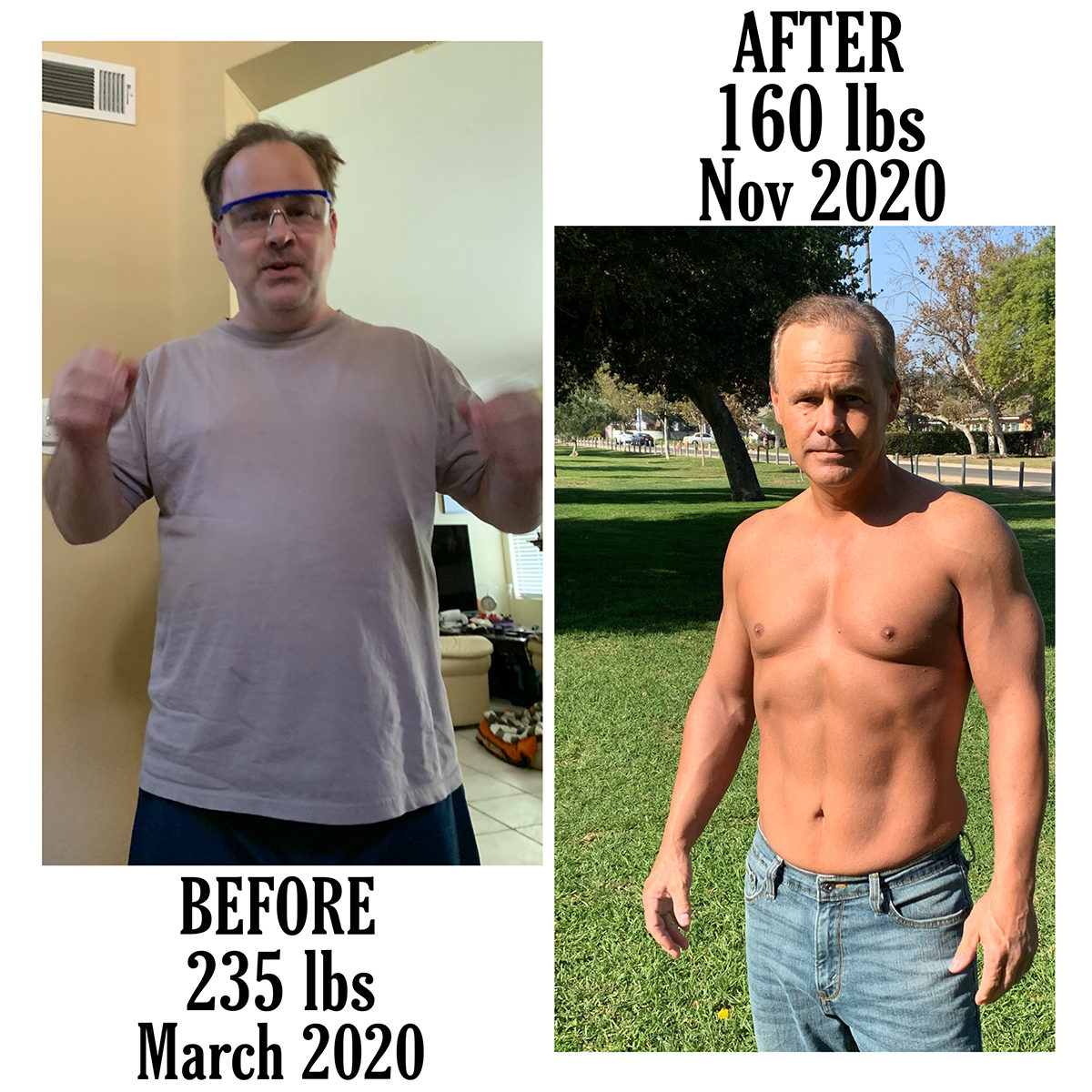 Craig C.

As the calendar page turned, to when your 'fat pants' have become simply 'pants,' and you're carrying a little extra holiday weight (like I have from Christmas 2003), it's time to start making some changes.  Even though I'm no stranger to eating right and getting fit, it can be quite difficult to get back on track after falling down the 'eat everything in sight' rabbit hole.  Enter Scott at SY Performance.
For years, Scott has strived to perfect his "Working Person's Detox" and meal planning programs…and they work!  I believe the detox is designed to go for as long as 14 days, but I got the results I needed in just 4 days (everyone's going to be different).  I simply wanted to get rid of my bad cravings and bloating, and lose a few pounds so I could get back to living healthier, and that's just what it did for me.  In just those 4 days I lost 5 pounds, 2 inches on my waist, didn't feel sluggish, and overall just felt so much better.  I didn't even feel hungry either!
Let's be honest…probably the biggest motivator to get you to stay focused is when you (and others) see results.  If you follow Scott's meal plan as outlined, you WILL get results.  Now, about a month after starting with Scott's detox and following through with his dietary recommendations (and surviving Super Bowl Sunday), I am down 13 pounds and nearly 4 inches in my waist, I have more energy with less food consumption and I even sleep better.
I strongly recommend that you reach out to Scott to see what he can do for you.
Jessica S.

I enjoy training and working out but nutrition has always been a struggle for me.  I was not feeling energetic, I was losing steam because I was not seeing changes, and my recovery seemed to take longer and longer.  Enter Scott with SY Performance.  Scott is energetic, intelligent, and so helpful.  He customized a meal plan for me based on how I train, how I live, and what specific foods I need to optimize my training routine and get the results I wanted.  I have been using his plan for a few months now and the changes in my weight lifting game are unreal!  I have energy, I stay more focused, I am much stronger and can lift much heavier, and most importantly, my head is back in the game.  Scott keeps himself accessible via texts and messaging, and has always been there to reply to my questions and concerns, like when I did NOT want to give up my white rice! 🤣 He is so knowledgeable and down to earth, he explains the "why's" and doesn't just give you a list and say "do this".  Overall, Scott's nutritional guidance has improved my fat loss, and increased my muscle growth, all while giving me the energy to live life like I want to.  This was my main goal and desire with going "cleaner" on my meal plan.  Before meeting Scott, cutting calories on my own left me tired and crabby, and completely put a halt to my lifting gains.  Not cool.  Scott will both motivate you, and provide the nutritional and training guidance, that you will need to meet your greatest potential!!
Shaun G.
I was always athletic growing up. I played sports and had abs. Sometimes life throws you a curve ball though. The stress of going through a divorce was more then I could've imagined. I had a desk job and gained some weight, which was about 50 lbs. My emotions were everywhere, and I was spiraling.  I reached out to Scott because he earned a reputation of getting results, and came highly recommend by several top industry professionals, in the financial services sector which I work in. I found Scott was a great listener. I told him my challenges and he took the time to help me overcome my hurdles. Thanks to Scott and his incredibly well thought out nutrition plan, I was able to lose that 50 lbs, and make some healthier lifestyle changes. I love how easy his meal planning program is to understand. It really was created and customized to fit my lifestyle. Scott is brilliant at what he does, and I will continue to both work with him and refer him, to anyone that is serious about getting results.
Still not sure that our program is right for you or your business?
Call or email us now to discuss how we can help you.