90 Day Body Transformation Program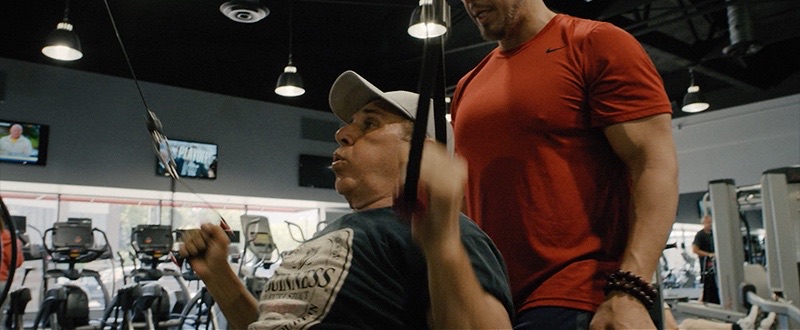 The 90 Day Body Transformation Program (90DBTP) is a 3 month, completely customized 1-on-1 personal training package, and educational course. Not only will we get you in the best shape of your life, but we will both educate and provide you with the confidence, to successfully workout on your own after completing our 90 day course. We also design both the strength training structure, and personalized meal program, based on the unique body composition and goals of each and every client.
We do this because every client is unique and different, in both their current fitness levels, and the personal fitness goals they have. Not everyone wants to just lose weight. There are clients that want to gain total body weight, while others may want to stay at their current weight, but burn off fat and "lean out" by building muscle. Because of this we start every serious inquiry with a FREE Fitness Evaluation.
The fitness evaluation consists of the following procedures:
An Ultrasound Body Fat Test – We shoot ultrasound waves into your body to get the most accurate body fat percentage reading on the market today
Body Weight Measurement – Medical grade full body scale accuracy
Body Circumference Measurement – Utilizing the MYOTAPE precision tool we measure the shoulders, back, arms, stomach, hips, thighs, etc.
Functional Movement Screens & Full Body Exercises – We have you perform these to both gauge the strengths and physical challenges you may have
Endurance & Flexibility Tests – We run a systematic test of your current level of conditioning and overall postural alignment
After all of the testing is completed, we will give you our professional opinion on what we feel we can achieve with you on our 90DBTP. From there we ask you to seriously consider your current situation and options before making any decisions. We have a no pressure, and no obligation philosophy, that we strongly believe in.
We don't want you to commit yourself to the program, unless YOU are ready to dedicate 110% of yourself, to achieving personal SUCCESS with us. We do not want this to be a waste of your precious time and money. We want you to be ready, to selfishly dedicate the time needed, to truly make a monumental change in your life.
If you decide to work with us then we will move forward by emailing you our 'SYP Diet Questionnaire'. It is an editable PDF format that will provide us with valuable info on your current diet and any restrictions you may have. With that info we will create your personalized meal program for you to follow while on the 90DBTP. With over 20 years of experience in designing meal programs, we have worked with every style of dietary modality, and eating preference under the sun.
Our hours of operation for training clients throughout the week are as follows:
Mon – 5:00 AM – 9:00 PM
Tue – 5:00 AM – 9:00 PM
Wed – 5:00 AM – 9:00 PM
Thu – 5:00 AM – 9:00 PM
Fri – 5:00 AM – 9:00 PM
Sat – 5:00 AM – 7:00 PM
Sun – Closed
Can't make these hours or get to our location in Burbank? We offer remote coaching through live coaching calls and our SYP Phone APP!
The 90 DBTP consists of the following regimen:
3 One Hour 1-on-1 Sessions per week – 12 sessions per month
3 to 4 Cardio Sessions per week – You will log in your solo cardio sessions on our SY Performance Phone APP to be checked off by your trainer
Biweekly Ultrasound Body Fat & Body Composition Testing – Twice a month body composition progress checks
Customized Meal Program – Designed from an Intermittent Fasting base, we can accommodate any type of eating modality that you desire. We have been designing successful meal programs for over 20 years, which have included Vegan, Vegetarian, Paleo, Keto, and more.
Daily Food Journals – You will log in your daily food intake on our SY Performance Phone APP to be checked off by your trainer
Certificate of Completion – Our seal of approval, documenting both your beginning and ending body stats, for you to keep and appreciate your great accomplishment
Upon successfully completing the 90 DBTP you will also receive:
3 Months of Ultrasound Body Fat & Body Composition Testing –(FREE of Charge) 3 total test sessions, split up once a month for the next three months, to keep you accountable and focused.
NEW 1 Month Customized Workout Program – (FREE of Charge). A 4 week structured NEW workout program provided with a month's free service on our Mobile Coaching App, accompanied with short and sweet exercise explanation videos, will help take you closer to your new fitness goals.
1 Month of Continual Food Journal Checks & Weekly Conference Calls – (FREE of charge) We can still support you by utilizing our SY Performance Mobile Coaching APP, to monitor both your food intake through our digital journals, and even conduct a weekly conference call to keep you accountable. All of this support for absolutely FREE of charge just for completing the 90 DBTP.
Does our 90 Day Body Transformation Program (90 DBTP) sound perfect for you? Can't make it to our location but you're interested in doing our 90 DBTP? No problem at all. We can coach you remotely through live coaching calls and our SYP Phone APP!
Contact us NOW for Pricing and Scheduling availability!
1-818-374-7961
Call now for a FREE phone consultation and fitness evaluation to see if one of our programs is a right fit for you.
Ryan, 90 Day Challenge Graduate

The 90 day challenge was 3 months of clean eating, with cheat days..yay, and 3

days a week of working out with an SYP Trainer and 3 days of cardio. I was so anxious that it was a HUGE challenge not to "over do it" But because I was eating healthy per the customized diet they provide, it was easier to listen to my body. After my final weigh in with Scott, I went to my car, shut the door, and wept like a happy mother. I was a mother to my inner child, knowing that I would make her proud. I did it. I DID IT!!!!!! Joining the 90 day program was NOT about being thin. It was about leading a healthy lifestyle. I have never been so happy! My head is clearer, smarter, and my life has a strong balance.
Khai, 90 Day Challenge Graduate

SYP is phenomenal!! I'm 40 years old and they've helped me get into the best shape of my life. Not only that, they've educated me on proper nutrition and a healthy lifestyle that I will be able to maintain on my own for the rest of my life.  I can't say enough about SYP on their knowledge and methodologies.
Ruffo, 90 Day Challenge Graduate

Today, at age 49, I am 18 pounds lighter, picked up more muscle, and my body fat has dropped to a number that I didn't even have in my twenties! I am literally in the best shape of my life!!! What's unique about Scott is that he listens and really cares about helping you reach your goals. Every two weeks he monitors your progress and makes adjustments if needed. He has extensive knowledge in diet and nutrition and its clear to me that he knows the right fitness routines and proper techniques to get you maximum results. Besides looking great I feel great too and am enjoying all the sports I used to enjoy in my teens and twenties, including surfing! Not to mention Scott is such a cool guy he has become a good friend. Investing in my health with SY Performance was the best money ever spent. Thank you!
Still not sure that our program is right for you or your business?
Call or email us now to discuss how we can help you.