Check Out What Our Mobile App Can Do For You
Watch This Video And Find Out
Hi, I'm Scott Yonehiro, Founder and Head Trainer at SY Performance in Burbank, California.  I'm super excited to introduce my brand-new personal training mobile app. This app has been a long time in the making, and as a personal trainer for over 20 plus years, I'm thrilled to finally share it with you.
The SY Performance Personal Training App isn't a one-size-fits-all workout app.  There are plenty of those out there. Instead, my app provides personalized workouts custom-designed to meet you where you're at with your health goals, your current level of fitness, and what exercise equipment you have readily available to you.  It provides you with affordable personal training that you can use at either the gym, at home, or on the road…we will adapt with you.
Speaking of using the app when you return to the gym—one of the best things about the app is you won't have to worry about any possible problems for not using your facility's in-house trainer.  The SY Performance Personal Training App is not a live facetime workout with one of our trainers. But it does allow you to bring one of us with you to the gym, via our custom designed workouts created specifically for you, that has quick video demonstrations and detailed guidance.
With our personal training app, you'll find so much more than just a series of exercises. In addition to providing customized workouts, you'll receive diet and training accountability with your trainer. You'll have a food journal which your trainer will be able to comment on, and/or make suggestions.  In other words, you'll be receiving comprehensive diet, fitness, and nutrition monitoring, just like the athletes and celebrities we take care of daily, but for a fraction of the cost. Plus, you can expect to notice faster results from your workouts, as you won't be spending time on exercises that aren't necessary to help you reach your goals.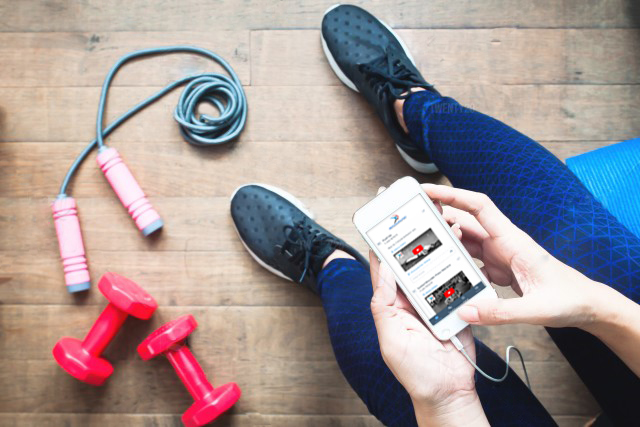 It's easy to sign up with the SYP Personal Training App, and we always offer a one-week FREE trial, so you can feel it out and see if it's right for you. So, if you're ready to get started, here's what to do next.
Send an email to scott@syperformanceone.com and we will provide you with a personal health questionnaire to fill out. Don't worry, it's not digging deep into your medical history.  It's just to help our trainers understand your goals, current health, and present fitness level, before we schedule your initial phone consultation.
Your phone consultation will take a max of 20 minutes.  During the call, we'll be looking to identify your motivating factors, any fears you have, any preexisting injuries we need to be mindful of, and more. It will also help our trainers to guide you in both your meal planning and goal setting.
Another important reason for the call is to build the rapport, or bond that is built between trainers and clients, that helps to ensure success.  Remember, this isn't a workout app.  This is a Personal Training app, and we have made it our goal to focus on the "Personal" aspect, due to how important it is to your success.
Within just a few days after the call you'll be ready to begin. Your planned workouts, suggested eating schedules and more, will be uploaded into the app for you to access and initiate. Our personal training app's intuitive design makes it easy to navigate and stress-free of any confusing directions.
However, don't expect to get stagnant or too comfortable with your workouts and nutritional intake.  Remember that we mentioned that this training app is designed to meet you where you're at, and where you're at will change as your health and fitness improves.  Which means that while performing the exercises might get easier for you, the workout sessions will continually evolve, and will both challenge and bring out the best in you.
All you need is your smart phone to get started today with customized mobile personal training from SY Performance. Whether you are currently back at the gym, or you are working out at the park, or exercising at home, we'll be there to make sure you reach all of your fitness goals.
We look forward to hearing from you.
Yours in good health,
Scott Yonehiro
1-818-374-7961
Call now for a FREE phone consultation and fitness evaluation to see if one of our programs is a right fit for you.
Cristina D. – New York, NY

I recently started training remotely with Scott through the TrueCoach app. I didn't know what to expect as I've only ever worked with trainers in person. But let me just say, WOW. The app is so easy to use, and each exercise includes a short video demonstration so there can be no question about what you're doing or the correct form. Scott makes sure to give clear, personalized instructions for each workout and responds quickly to any direct message sent through the app's chat feature. It truly feels like he's right there with you! He is creative and attentive, and customizes your plan for the equipment you have and the space available, even if it's just yourself and a small room. I am loving this new way of training and it's just PERFECT for the circumstances right now when we can't go to the gym. Absolutely five stars — try this please! It will add something wonderful to your life.
Steve J. – Pittsburgh PA

Scott has been training me for almost 3 years now. As a music producer & artist, I spend all day working in the studio, so reaching out to him when I lived in Burbank was one of the best decisions of my life. After 2 years of training in person, I moved away from the LA area, and one of the biggest things I missed was the knowledge and mindset that Scott brought to my health and fitness. I was so glad when I reached out to him and discovered that he was now training through a mobile app. I'm now doing the same level of intensity and frequency of workouts, that I used to do with him in person, but now it is all in my garage with equipment I picked up from craigslist and friends. Even better, I am doing the workouts on my own, and building the self-discipline to maintain this practice for years to come. For the first time in my life, I'm regularly working out without needing someone to stand over me and enforce it. Best of all is that Scott is just a text or call away, if I need any advice on nutrition, workout guidance, or if I just need some sage life advice. If you are reading this testimonial, then you must be looking for health and fitness guidance, so I urge you to try out Scott's mobile app. Scott will give you unbeatable guidance and accountability, at a cost that everyone can afford, and should never be without. Just do it.
Ginny G. – Chicago IL

The True Coach mobile app with Scott is the closest thing to having a live personal trainer!! I love my workouts he sends me thru the app.  Every exercise he provides has a short instructional video accompanied with Scott giving his own personal directions with it.  You can leave comments after completing each exercise, which Scott keeps in his notes, so that he can measure your growth and development.  I love the convenience of this mobile app. By receiving the workout the night prior to doing it, it allows me to better schedule my work day, and fit the workout at a time most opportune for me.  Any questions or comments I may have, Scott is always there to answer for me, via direct messaging through the app. When I visit Los Angeles I have live workouts with Scott, and I love how he has managed to provide that same personal attention I receive when with him, through the True Coach app when I'm home all the way in Illinois. I would highly recommend the TRUE COACH app with Scott!!
Still not sure that our program is right for you or your business?
Call or email us now to discuss how we can help you.